2023 Maserati Ghibli Trofeo Model Review with Prices, Photos, & Specs

Starting at $122,600 MSRP*
3.8-liter twin-turbocharged V8 with 580 horsepower and 538 lb-ft of torque and ZF eight-speed automatic transmission
Top speed of 203 MPH and 0-60 time of 4.0 seconds
Corsa Drive Mode with Launch Control
Skyhook performance suspension with electronic damping control
21-inch Silver Forged Orione Wheels
12-way Power Sport Seats w/Memory Functions and High Gloss Carbon Fiber Twill Trim
MIA (Maserati Intelligent Assistant) 10.1-inch multimedia display featuring Maserati Connect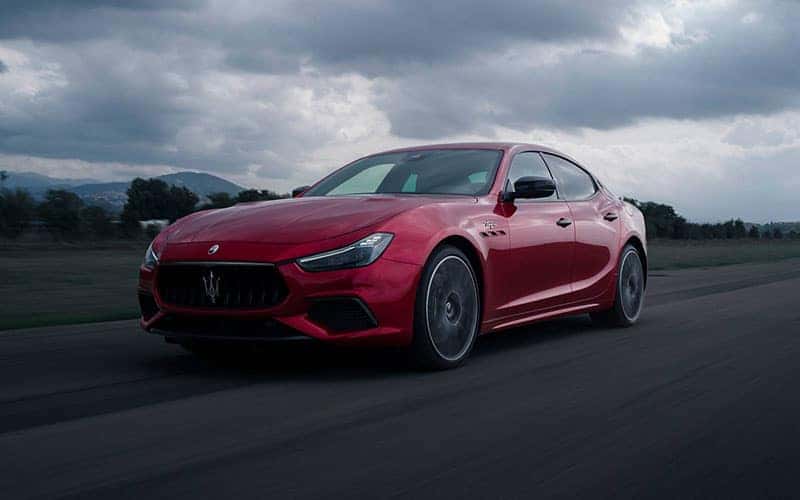 About the Maserati Ghibli Trofeo
Providing a perfect combination of four-door luxury and track-inspired performance, the Maserati Ghibli has remained an icon since its introduction back in 1966. You'll have your choice of two responsive twin-turbocharged V6 engines, a standard ZF eight-speed automatic transmission, and a total of five individual drive modes to help tailor your drive to suit your preferences. Once you step inside, you'll be surrounded by iconic Italian design elements in addition to a selection of premium materials. Ranging from optional Ermenegildo Zegna silk upholstery to a 15-speaker Bowers & Wilkins Surround Sound system — the Maserati Ghibli has an array of amenities to impress even the most discerning drivers. A collection of cutting-edge driver-assistive safety technologies help keep you protected from the unexpected behind the wheel of the Maserati Ghibli.
"Do yourself a favor: Activate Sport mode and roll your right foot on the accelerator. This engine provides a mountain of torque at the low end, and once the revs climb past 5,000 rpm the rush of air through the intakes and the rapidly rotating tach needle bring to mind Maserati's and Ferrari's histories in racing. It almost feels more like a massive-displacement naturally aspirated engine than a compact twin-turbo V-8." — Motor Trend
"On a couple of highway-heavy day trips, punctuated at their end by blasts through the countryside, the suburbs and the city, the Trofeo really showed its strengths. It's an absolute delight on the interstate, providing rich comfort and immediate passing power. After the offramp, it shines especially bright on the backroads during the "last mile" (well, last twenty miles) of these kinds of outings." — Forbes
Maserati Ghibli Trofeo Features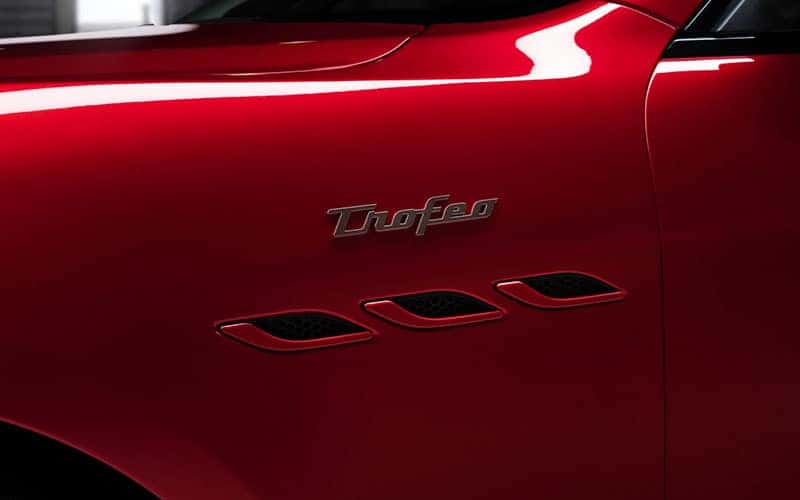 Elegant Styling
With a reputation for the ability to travel long distances at impressive yet refined speeds, Maserati vehicles remain true to their grand touring heritage. The Maserati Ghibli is available in your choice of two twin-turbocharged V6 engines built exclusively by Ferrari at their factory in Maranello, Italy which range from 345 to 424 horsepower for an inspired drive. Precision gear changes come from an advanced ZF eight-speed automatic transmission that relies on auto-adaptive software to modify shift patterns to suit your driving style.
Five drive modes accessed by using the buttons near the gear lever allow the Ghibli to adapt to your driving preferences. In Auto Sport mode, gearshifts engage in less than 100 milliseconds and at higher revs. ICE (Increased Control & Efficiency) mode provides greater control in all weather conditions, optimized fuel consumption, and the most comfortable engine response. Optional Q4 intelligent all-wheel drive system and a Maserati Skyhook suspension system provide superlative handling on the Maserati Ghibli.
Exclusive Performance
The heart of the Maserati Ghibli Trofeo's incredible performance is its engine. Sourced from Ferrari, this 3.8 liter twin-turbocharged V8 is rated at an exceptional 580 horsepower and 638 lb-ft of torque. That's powerful enough to propel this luxury sedan to 60 MPH in just 4.0 seconds on its way to a 203 mile per hour top speed. Standard launch control helps everyday drivers achieve that impressive acceleration time, and a standard Skyhook suspension system effortlessly combines comfort and performance. Great handling doesn't have to come with a punishing, harsh ride as a side effect – at least not when you're behind the wheel of the Maserati Ghibli Trofeo.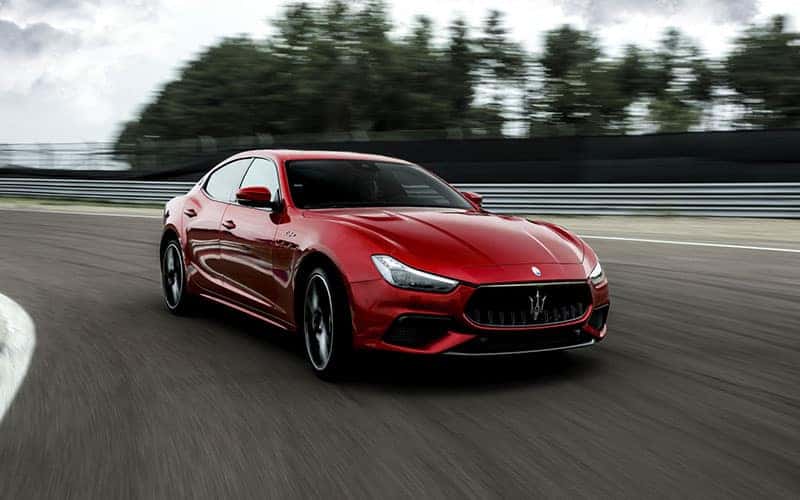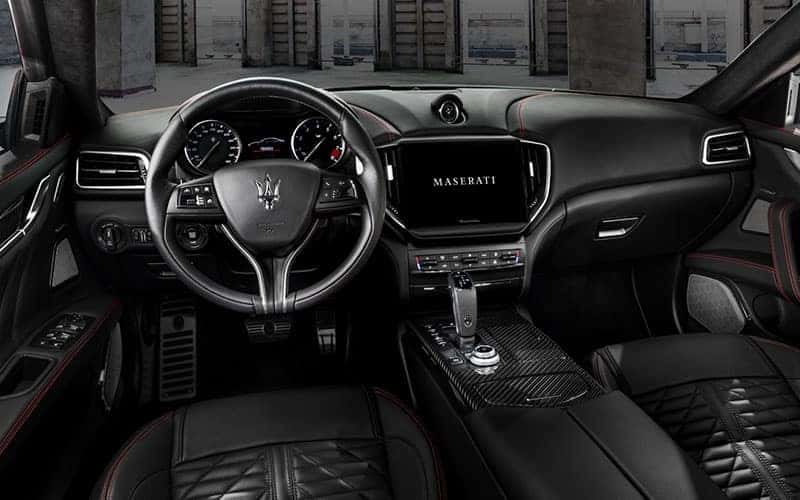 Bespoke Interior
Inside the Maserati Ghibli Trofeo, you'll find a luxurious cabin that's also race-inspired with a focus on total driver control. The Ghibli Trofeo sport seats are trimmed in Pieno Fiore natural leather available in your choice of black, red, or tan. In addition, the headrests are embossed with the Trofeo logo. Multimedia control is provided by the standard Maserati Intelligent Assistant (MIA), which features unique Trofeo graphics and is customizable to suit your needs. Apple CarPlay and Android Auto integration allow you to connect your smartphone to the MIA system for ease of use. The Maserati Ghibli Trofeo is also equipped with standard driver assistance features such as adaptive cruise control, lane-keeping assist, and automatic emergency braking.
Actual selling price may vary. Dealer preparation, options, delivery, destination, taxes, title, license and registration fees not included. Please see your authorized Maserati dealer to ensure the actual availability of these models and the accuracy of the information.