2019 Maserati GranTurismo Convertible Model Review with Prices, Photos, & Specs

Starting at $150,980 MSRP*
Ferrari-built 4.7-liter naturally-aspirated V8 engine with 454 horsepower and 384 lb-ft of torque
Drive modes: Auto-Normal, Auto-Sport, Manual-Normal, Manual-Sport and I.C.E. (Increased Control & Efficiency)
Limited slip differential, Brembo brakes, and 20-inch alloy wheels
Maserati Touch Control Plus (MTC+) 8.4-inch multi-touchscreen display with center console rotary control along with Apple CarPlay® / Android Auto™ / Bluetooth®
Sport seats available in sumptuous Poltrona Frau™ leather or Alcantara
Automatic top with thermal glass rear window
11-speaker Harman Kardon Premium Audio system
About the Maserati GranTurismo Convertible
The wind-in-your-hair variant of the legendary Italian GT, the 2019 Maserati GranTurismo Convertible stimulates the senses with evocative styling, proven performance, and premium refinement. Experience the open road while the race-proven, high-revving, naturally aspirated V8 engine serenades you behind the wheel of the GranTurismo Convertible. For easy, draft-free cruising – a unique soft convertible top is assembled with insulated triple-layer cloth paired to a steel and aluminum frame. Regardless of the weather conditions, a thermal-glass rear windscreen will keep you comfortable at all times.
No matter how far your journeys take you, standard standard Maserati Touch Control Plus (MTC+) featuring an 8.4-inch multi-touchscreen display along with Apple CarPlay® and Android Auto™ smartphone integration helps you stay connected. Generous room for up to four occupants means that you can experience the thrills of the open road with your closest friends. The iconic tradition of Italian grand touring lives on with the dynamic Maserati GranTurismo Convertible.
"There isn't much "timeless design" in the world of cars these days, but the GranTurismo convertible—and its coupe sibling—are a rare exception. Beyond its looks, another key to the GranTurismo's timeless appeal is its glorious, naturally aspirated 4.7-liter V-8, which Maserati jointly developed with Ferrari." – Automobile Magazine
"Off and running, the GranTurismo makes truly glorious music. Unencumbered by turbochargers, it unleashes an animalistic growl at idle my wife swears sounds like a pack of baby leopards. Building toward its 7,500-rpm redline, the growl becomes a howl that burrows into your soul where it'll never be forgotten." – Motor Trend
Maserati GranTurismo Convertible Features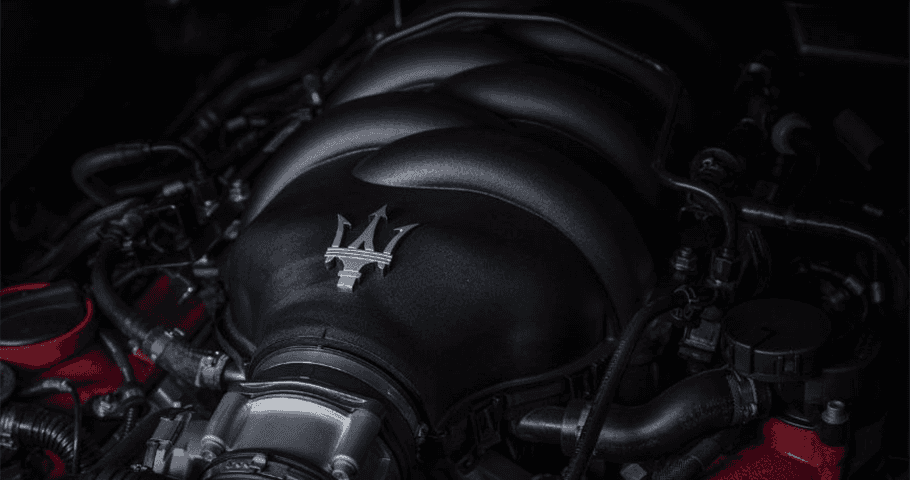 Race-Inspired Performance
A critical aspect of any grand touring convertible is a proven powertrain that delivers smooth, refined power across long expanses of highway in addition to the ability to unleash its fury in an instant. The ideal powertrain for this task is its Ferrari-built 4.7-liter V8 engine that's both compact and lightweight. This engine will get your pulse pounding thanks to its ability to rev to an impressive 7,000 RPM along with producing 454 horsepower and 384 lb-ft of torque.
A result of its track-inspired engineering, you'll have the ability to accelerate from 0 to 60 MPH in a blistering 4.9 seconds on the way to a top track speed of 177 MPH. Equally as comfortable as it is precise, customizable drive modes allow you to tailor the standard ZF six-speed MC Auto Shift gearbox to match your preferences. Examples of these modes include Auto-Normal, Auto-Sport, Manual-Normal, Manual-Sport and I.C.E. (Increased Control & Efficiency). Hydraulic steering and a double-wishbone suspension combine to help enhance your connection to the road. Standard Brembo brakes help keep the immense power of the Maserati GranTurismo Convertible under control.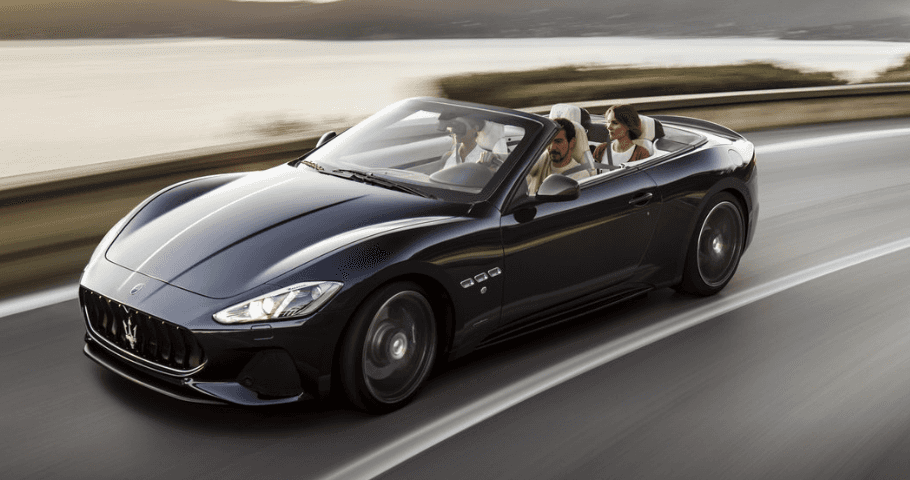 Iconic Styling
Expertly-chiseled proportions and quintessentially-Italian styling cues allow the GranTurismo Convertible to stay true to the storied heritage of Maserati vehicles. Striking design accents found on the exterior include a prominent front grille, signature triple side vents, and an elegant aerodynamic profile. Fundamental components of any grand touring experience are comfort and convenience. These two aspects are represented by an automatic top with a thermal glass rear window, allowing you to raise or lower the roof in just a matter of seconds. Different from most convertibles, the aesthetic of the vehicle remains unchanged even with the roof up. For extra convenience, the trunk and doors are equipped with an electronic opening assist.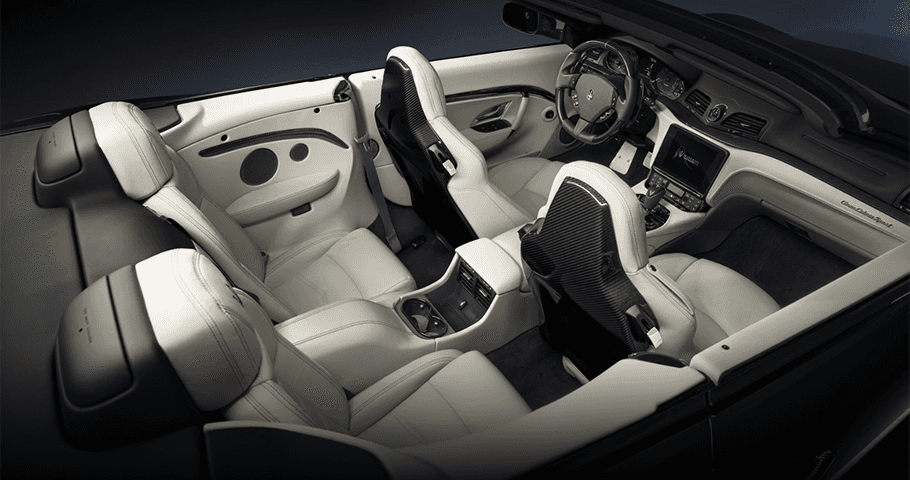 Luxurious Cabin
From the moment you grasp the three-spoke sport steering wheel, you'll gain an appreciation for the precision craftsmanship infused into the Maserati GranTurismo Convertible. Providing you with a blend of support and comfort are standard sport seats which are available in sumptuous Poltrona Frau™ leather or Alcantara featuring hand-stitched details along with Trident-embroidered headrests. Optional interior trim accents are available in carbon fiber, wood, and MC Edition aluminum. Serving as your centralized destination for infotainment, Maserati Touch Control Plus (MTC+) delivers real-world assistance, intuitive operation, and adaptable enjoyment. Apple CarPlay®, Android Auto™, and Bluetooth® capabilities give you endless options for listening to your favorite songs via the standard 11-speaker Harman Kardon Premium Audio system.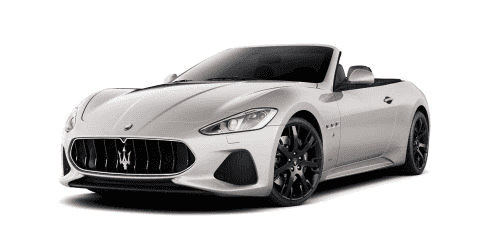 GranTurismo Convertible Sport
Starting at $150,980 MSRP*
Ferrari-built 4.7-liter naturally-aspirated V8 engine with 454 horsepower and 384 lb-ft of torque
Double-wishbone suspension, hydraulic steering rack, and Brembo brakes
Sport seats available in Poltrona Frau™ leather or Alcantara featuring hand-stitched details and Trident-embroidered headrests
Maserati Touch Control Plus (MTC+) 8.4-inch multi-touchscreen display with center console rotary control
Automatic top with thermal glass rear window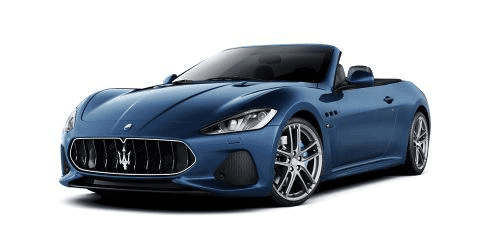 GranTurismo Convertible MC
Starting at $162,880 MSRP*
Lightweight MC Design 20-inch forged-alloy wheels with fourth-generation Pirelli PZero tires
Three-spoke sport flat-bottom steering wheel with Trofeo Design gearshift paddles
Optional Sport Skyhook damping with Normal and Sport modes
Exclusive front bumper, new front splitter, and integrated rear spoiler
Available Bianco Birdcage three-layer Pearlescent paint finish