2023 Maserati Grecale Review with Specs, Trims, & Photos

Starting at $63,500 MSRP*
Three engine variants: 2.0L L4 mild-hybrid producing 296 HP (Grecale GT), 2.0L L4 mild-hybrid producing 325 HP (Grecale Modena), and high-performance 3.0L twin-turbo V6 producing 523 HP (Grecale Trofeo)
Standard All-Wheel Drive and 8-speed automatic transmission, optional limited-slip differential
Premium 14-speaker Sonus faber Sound System
Maserati Intelligent Assistant (MIA) multimedia system including a central 12.3-inch touchscreen and a smaller 8.8-inch comfort touchscreen (over 33 inches of display screen surfaces in total)
Best-in-class comfort and spaciousness with generous cabin space measurements and streamlined design
Adaptive Air Suspension with Skyhook damping
Extensive use and availability of authentic materials including natural leather, carbon fiber, and wood
About the Maserati Grecale
Marking the start of an entirely new chapter of Italian design and thrilling performance, the agile Maserati Grecale sets the standard for all compact luxury SUVs to try and follow. Its name comes from the raucous northeast wind of the Mediterranean Sea, hinting at the potent power of the Grecale model range. Beneath the hood, the Grecale engine lineup consists of two individual mild-hybrid powertrains in addition to a race-inspired high-performance 523-horsepower V6 based on the Maserati MC20 Nettuno engine. Just as impressive, the opulent interior of the Grecale is loaded with advanced technology and impeccable comfort amenities. An excellent example is a jaw-dropping total of over 33 inches of display screen surfaces that provide a remarkably engaging infotainment experience via the Maserati Intelligent Assistant (MIA) multimedia system. Iconic style infused with progressive innovation, the driver-car interface of the Grecale includes digital readouts that instill a connection between you and the road ahead. An invigorating departure from the ordinary, the Maserati Grecale is engineered to defy convention.
What the Critics Say
"More luxurious than an Alfa Romeo Stelvio, more charismatic than a Jaguar F-Pace, more exotic than a Porsche Macan, the Grecale could be the Maserati that finally brings the storied Italian brand into the premium mainstream in America."
— MotorTrend
"Of course, it's difficult to draw definitive conclusions from such a brief first drive, but my experience with the Grecale is overwhelmingly positive. The vehicle is beautiful and its interior stellar, there's plenty of tech and the dynamics are well sorted. Simply put, the new Grecale is a winner, which is exactly what Maserati needs."
— Roadshow by CNET
Maserati Grecale Features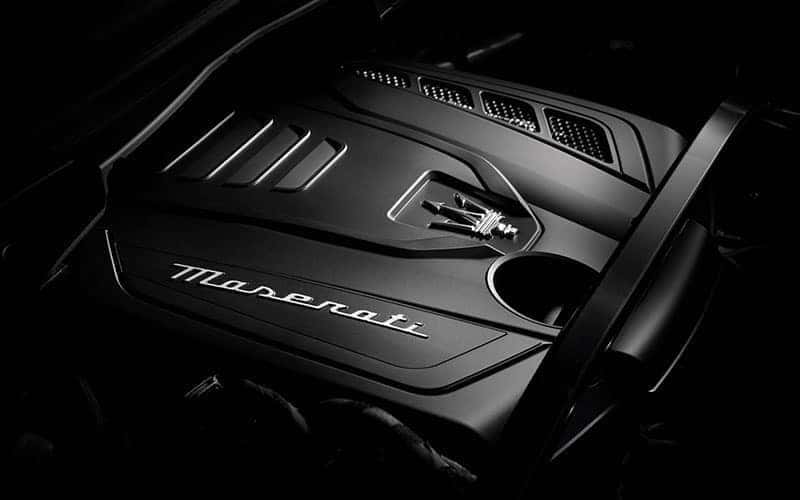 Potent Performance
Adhering to the Maserati tradition of crafting luxury vehicles infused with athletic performance capabilities, the Grecale is equal parts dynamic and poised thanks to its diverse lineup of engines. Grecale GT models are powered by a sophisticated 2.0L L4 mild-hybrid engine that cranks out a robust 296 horsepower. Upgrade to the Grecale Modena to receive a more potent version of the 2.0L L4 mild-hybrid that produces 325 horsepower. Sitting atop the range is the track-tested Grecale Trofeo, powered by a 523-horsepower V6 based on the Maserati MC20 Nettuno engine. This astounding powertrain delivers best-in-class performance figures including a 0 to 60 time of just 3.6 seconds and a top speed of up to 177 MPH. All Grecale models come paired with a responsive 8-speed automatic transmission and all-wheel drive as standard features. Additional performance attributes offered on the Maserati Grecale include a limited-slip differential, available adaptive air suspension, and configurable drive mode settings.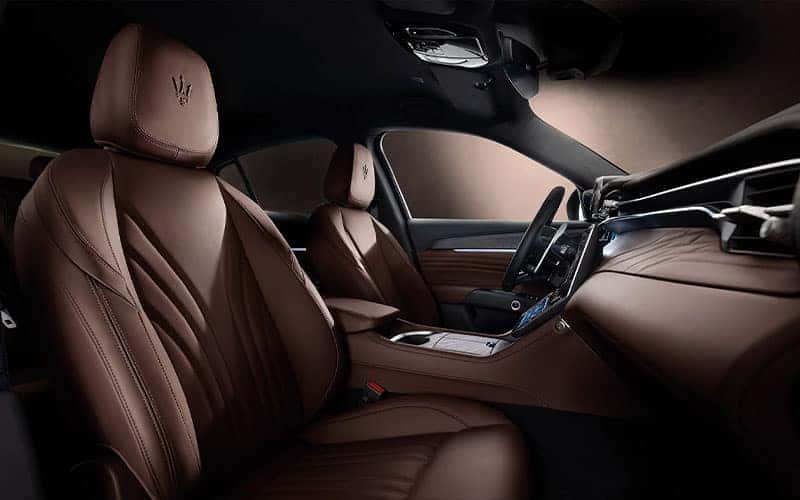 Opulent Interior
Performance is not the only category in which the Maserati Grecale rises above its competitors. In fact, none of its rivals can compete with its best-in-class interior volume, rear headroom, and rear legroom. Along with generous space, you'll find a number of premium materials including natural leather, carbon fiber, and genuine wood. Contributing to the upscale feel of the cabin are features like an optional panoramic sunroof and ambient interior lighting, perfect for personalizing the mood inside the cabin. Rear seat occupants can also access features like a 6.5-inch rear touchscreen and 3-zone climate control system for personalized comfort. A true feast for the senses, the world-class interior of the Maserati Grecale is infused with iconic Italian craftsmanship and luxurious appointments that are truly a cut above.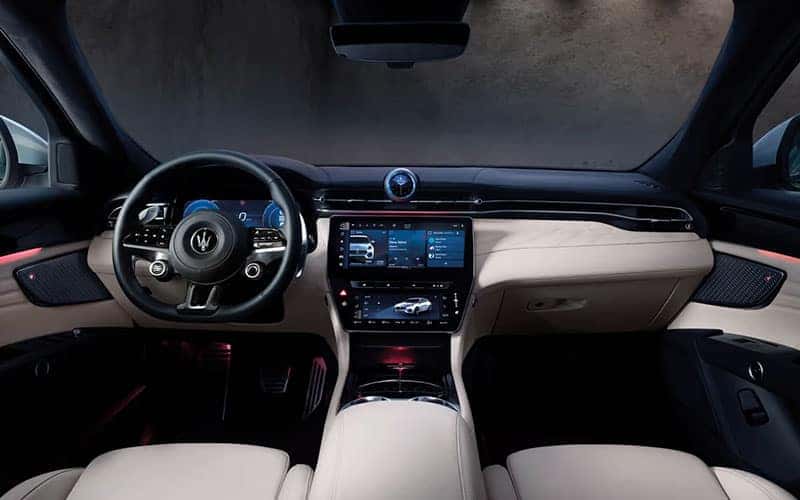 Revolutionary Technology
Along with its harmonious symmetry and eye-catching design, the Maserati Grecale offers a comprehensive collection of the latest connectivity and technology assists to help you stay engaged and informed. The revolutionary Maserati Intelligent Assistant (MIA) is your centralized hub for your favorite multimedia functions, accessed easily from a 12.3-inch touchscreen display. Functions like vehicle settings, drive modes, apps, media, navigation, and more are just a swipe away. Directly below, you'll find the 8.8-inch Comfort Display that's home to both comfort and personalization controls that can be summoned using smart gestures. This means that adjusting climate settings, seat positions, and lighting can be done while keeping your eyes safely on the road ahead. Drivers can easily view important data from the standard 12.3-inch TFT Digital Cluster that's able to adjust to up to 4 different selectable configurations inside the Maserati Grecale.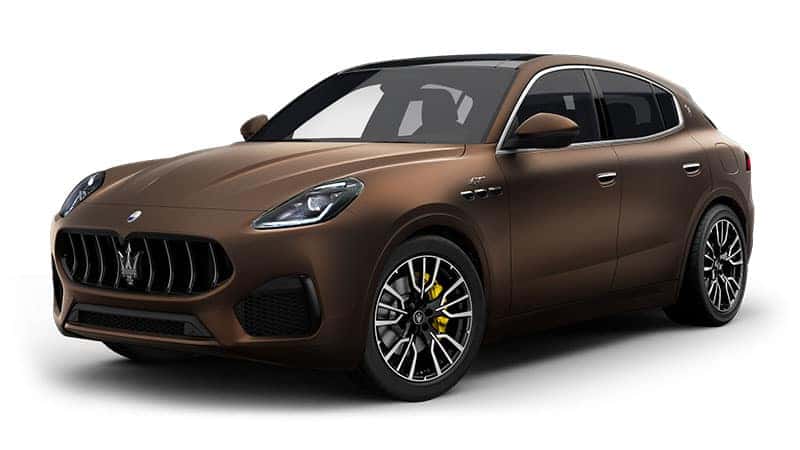 Grecale GT
Starting at $63,500 MSRP*
2.0L L4 mild-hybrid producing 296 HP
Acceleration (0-60 MPH) – 5.3 seconds
Max Speed – 149 MPH
19-inch Gloss Dark Thetis Wheels with All Season Tires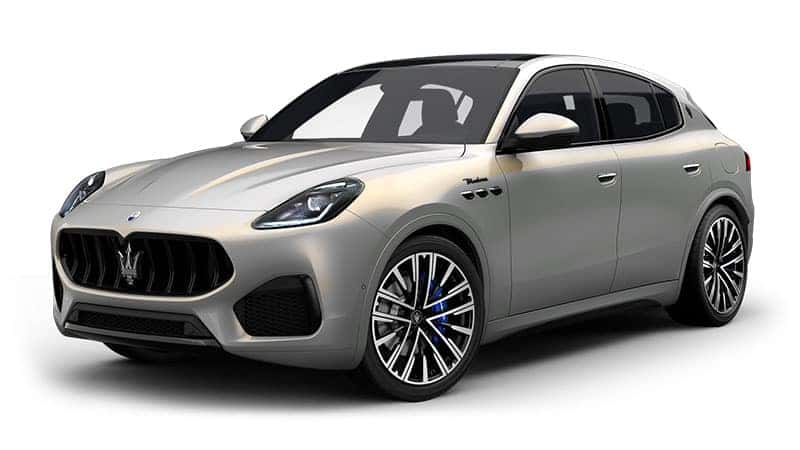 Grecale Modena
Starting at $72,900 MSRP*
2.0L L4 mild-hybrid producing 325 HP
Acceleration (0-60 MPH) – 5.0 seconds
Max Speed – 149 MPH
20-inch Machine Polished Forged Etere Staggered Wheels with All Season Tires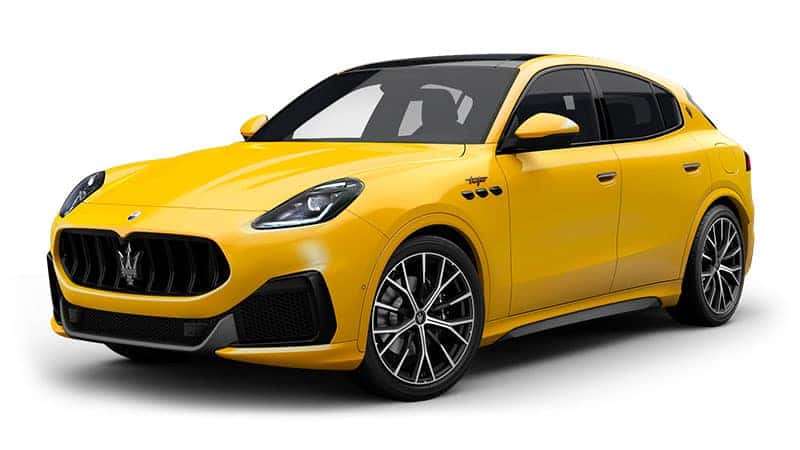 Grecale Trofeo
Starting at $102,500 MSRP*
High-performance Twin-Turbo 3.0L V6 producing 523 HP
Acceleration (0-60 MPH) – 3.6 seconds
Max Speed – 177 MPH
21-inch Matte Crio Staggered Wheels with Summer Tires