2022 Maserati Levante Model Review with Prices, Photos, & Specs

Starting at $81,800 MSRP*
3.0L twin-turbo 6-cylinder engine producing either 345 or 424 horsepower (Levante / Levante Modena) and Q4 intelligent all-wheel drive
Interiors available in premium perforated leather, Pieno Fiore natural leather, or Zegna silk upholstery
Aggressively sculpted front grille with iconic triple side air vents
900-watt, 14-speaker Harman Kardon Premium Audio System standard on Levante GranLusso
Apple CarPlay® / Android Auto™ / Bluetooth®
Available Driver Assistance Package with an impressive range of Advanced Driving Assistance Systems
Maserati Touch Control Plus (MTC+) 8.4-inch multi-touchscreen display with center console rotary control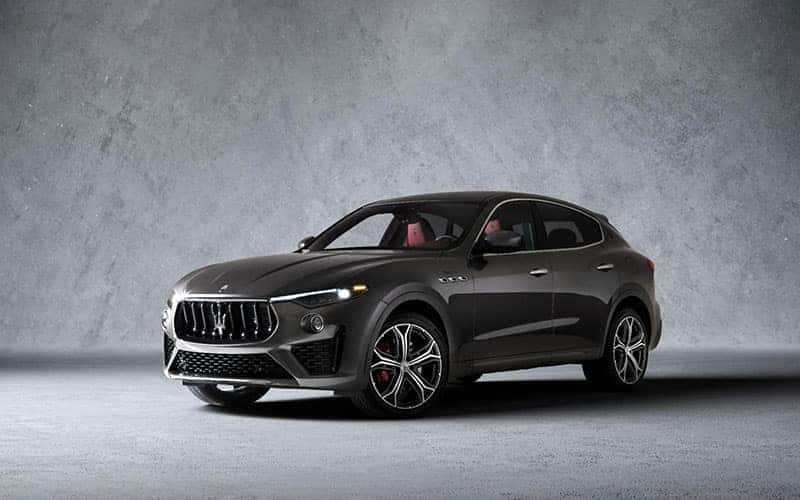 About the Maserati Levante
Levante is a wind that blows across the Mediterranean, transforming from a calming breeze into a gale force in a split second. When Maserati began development on their first SUV, it was essential that it bears a name that represents immense power that remains comforting at the same time. The Maserati Levante is powered by a potent 3.0L twin-turbo 6-cylinder engine paired with capable Maserati Q4 intelligent all-wheel drive.
Every aspect of its immaculate design is authentically Maserati — ranging from powerful, dynamic style to its purity of purpose, condensed to the smallest detail. Focusing on engagement, real-world assistance, and connected entertainment — the Levante includes an innovative infotainment package that's sure to impress both drivers and passengers. Seductively-styled interior amenities include premium perforated leather upholstery and an optional Harman Kardon Premium Audio System. No other luxury SUV has the inspired character and quintessential Italian attitude quite like the Maserati Levante.
"Powered by either a sonorous twin-turbo V-6 or a roaring twin-turbo V-8, the Levante is a performance SUV with a decidedly Italian flair. Although it's been a part of the Maserati portfolio for only a few years, it has quickly become one of the brand's most popular models." — Car and Driver
"The Levante brings classic Maserati character to the world of midsize luxury SUVs with distinctive design and thoroughbred twin-turbo engine power derived from its Ferrari roots. Its broad range of custom options, from the color of its brake calipers to a variety of interior leathers and materials, also give the Levante a more personal touch." — Edmunds
What's New for 2022
The Levante lineup sees a few updates for 2022. The trim levels have been overhauled with new names and badging. The luxury-focused base Levante is now known as the GT with 345 horsepower, while the performance-oriented Levante Modena is the next step up with 424 horsepower. The king of the hill for the Maserati Levante lineup is the exclusive Levante Trofeo. Learn more about the Trofeo model lineup here.
Maserati Levante Features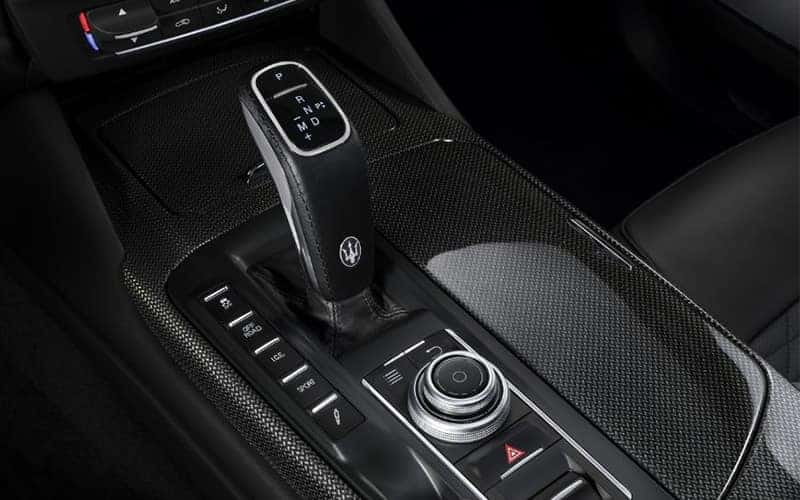 Inspired Performance
The 3.0-liter twin-turbocharged V6 engines under the hood of the Levante and Levante S provide everything you would expect of a Maserati, from a commanding exhaust note to long-distance smoothness. Constructed exclusively at Ferrari's Maranello plant, the bespoke powertrain of the Levante is able to reach a top track speed of 156 MPH. An advanced ZF automatic transmission delivers perfected response. You'll also have access to specialized Drive Modes: Normal, Sport, Off-Road and I.C.E. (Increased Control & Efficiency) for a customized drive. An active 5-way air suspension and limited-slip differential help transfer the immense power to the wheels.
Luxurious Cabin
Maserati understands that all leather is certainly not created equally. That's precisely the reason why Levante GranLusso and GranSport variants can be equipped with Pieno Fiore natural leather which offers exceptional softness along with unparalleled quality and durability. Available interior themes include Open Pore Regimental, Matte Carbon Fiber Weave, and High-Gloss Metal Weave. Levante GranLusso trims feature a power-adjustable steering wheel which is heated and finished in fine wood. A Harman Kardon Premium Audio System, an advanced navigation system, and soft-close doors add to the upscale atmosphere inside the cabin.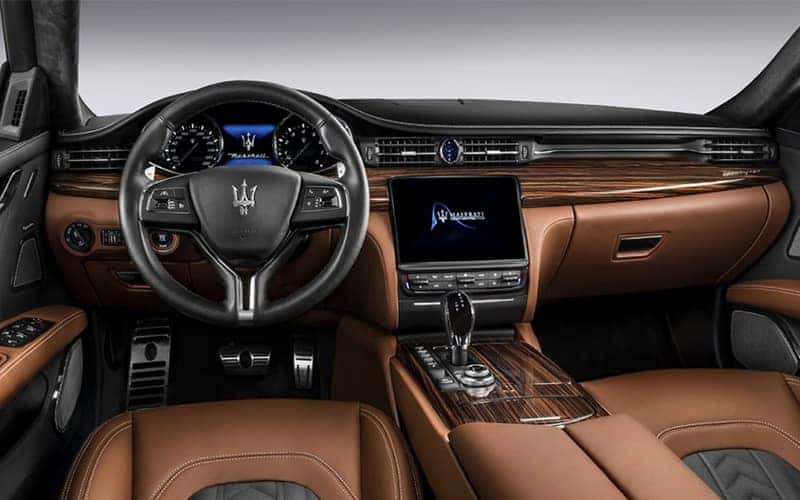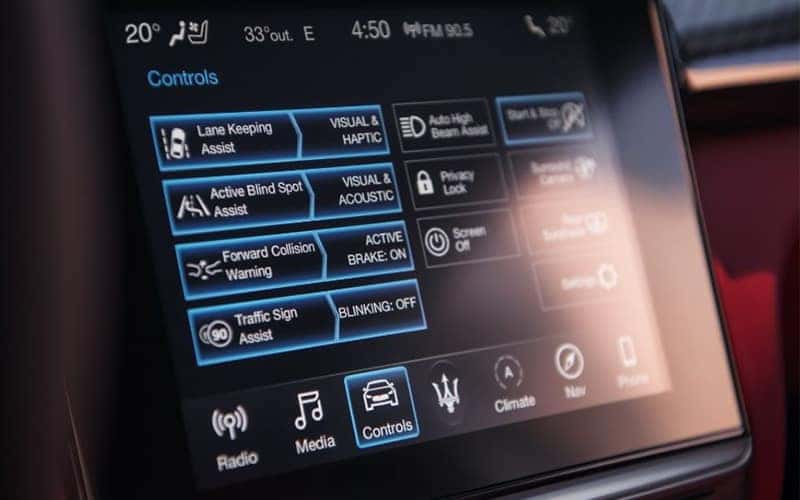 Sophisticated Tech & Safety Features
Serving as the command center for your favorite media, the Maserati Touch Control Plus (MTC+) infotainment system at the center of the dashboard of the Levante. The state-of-the-art MTC+ system also supports Apple CarPlay® and Android Auto™ mirroring functions. You can also control front seat heating, as well as the ventilation, heated steering wheel, and the rear sunblind (when equipped).
An optional Driver Assistance Package equips your Levante with a comprehensive range of safety features to keep you and your passengers protected from the unexpected. Examples of these groundbreaking features include Active Blind Spot Assist, Highway Assist System (HAS), Lane Keeping Assist (LKA), Adaptive Cruise Control with Stop & Go, 360 Surround View Camera, and Forward Collision Warning Plus.
Maserati Fuoriserie Program
A Maserati is already an exclusive machine as-in. Now, the Maserati Levante can be customized further as part of the Maserati Fuoriserie Program. The Maserati Fuoriserie Program allows you to create a personalized expression of your personality in the form of a one-of-a-kind Maserati. Using unique colors, designs, and materials unavailable on standard Maserati models, you can express your individuality based on one of three unique themes that form the springboard for your customization journey. The race-inspired Corse collection pays tribute to Maserati's motorsports heritage, while the Unica collection will appeal to fashionistas. The Futura theme is ideal for those on the cutting edge of technology and design. Regardless of your choice, you can rest assured that your Maserati will stand out as an individual creation, just like you.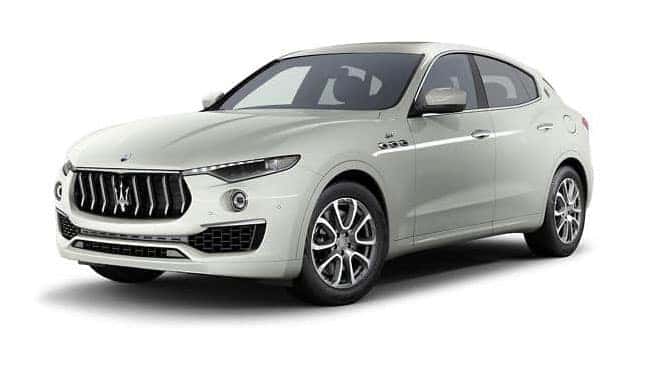 Levante GT
Starting at $81,800 MSRP*
3.0L twin-turbo 6-cylinder engine with 345 horsepower and Q4 Intelligent All-Wheel-Drive (AWD) system
Apple CarPlay® & Android Auto™
8.4-inch Maserati Touch Control Plus with Navigation
20-inch Silver Efesto Platinum Wheels
Dual-Pane Panoramic sunroof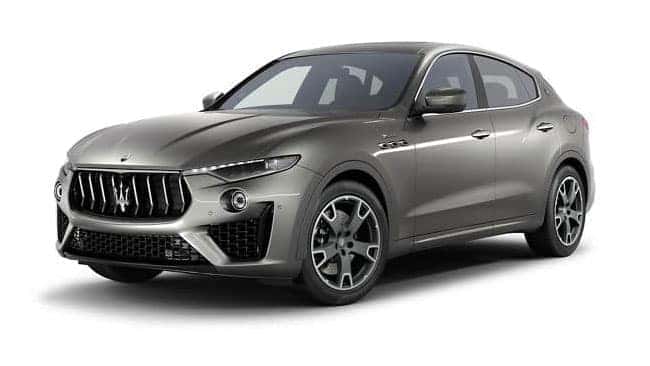 Levante Modena
Starting at $93,100 MSRP*
3.0L twin-turbo 6-cylinder engine with 424 horsepower
Rearview camera with front & rear park sensors
Heated front seats
Bi-Xenon headlamps
20-inch Matte Staggered Nereo Wheels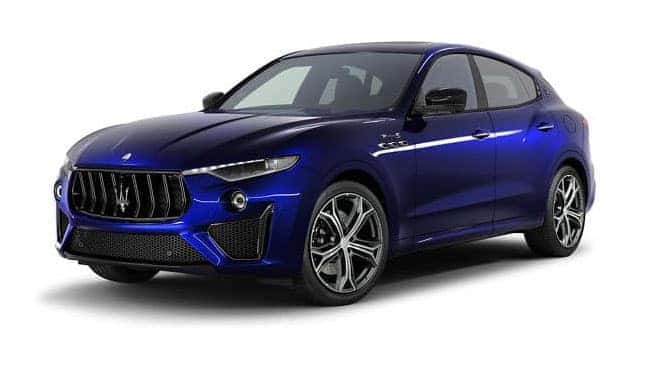 Levante Modena S
Starting at $118,500 MSRP*
3.8-liter twin-turbo V8 engine with 550 horsepower
ZF 8-speed automatic transmission with Q4 intelligent AWD
Staggered 20-inch wheels
Adaptive full LED headlights
Adaptive cruise control
*Actual selling price may vary. Dealer preparation, options, delivery, destination, taxes, title, license and registration fees not included. Please see your authorized Maserati dealer to ensure the actual availability of these models and the accuracy of the information.