Maserati SUV Overview
Ever since the very first model was assembled, Maserati has remained a coveted brand of luxury vehicles known for their thrilling performance capabilities and inspiring Italian craftsmanship. Taking cues from iconic sports cars of the past and meticulously tested by talented engineers in Turin, the world's first Maserati SUV was required to exceed already high expectations. When creating an SUV worthy of wearing the Maserati Trident, the Levante underwent tireless testing and countless hours of painstaking development to perfect its design. Searching for more info about the Maserati SUV lineup? Maserati of Akron has created this in-depth overview to provide you with a look back at the history of the Levante as well as a quick glimpse into upcoming Maserati SUV models.
---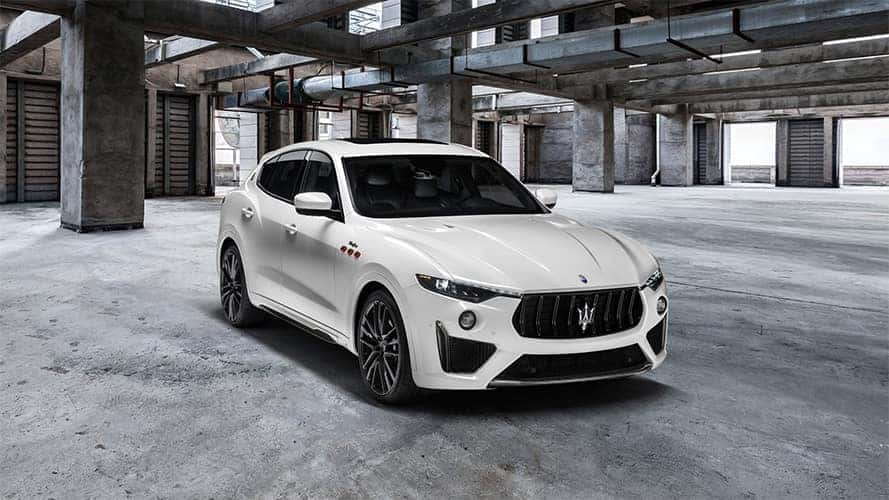 History of the Maserati SUV
Curious about the meaning of the name "Levante"? The name of the first Maserati SUV comes from the Mediterranean wind that can shift from calm to fierce in an instant. With members from the automotive press looking on with great anticipation, the curtains opened up to unveil the first Maserati SUV at the Geneva Auto Show back in 2016. Another interesting bit of trivia is much of the inspiration for the Levante can be traced back to the 2011 Maserati Kubang concept model.
Although other luxury brands had launched their versions of performance SUVs, engineers worked around the clock to ensure that all the quintessential traits of Maserati were infused into the Levante. Certainly playing a role in its popularity with driving enthusiasts, the Maserati Levante has stayed true to the signature aspects of the brand while simultaneously providing growth through a new addition into the Maserati lineup. In fact, the Levante Trofeo is now one of the fastest production SUVs currently available on the market thanks to its jaw-dropping 580 horsepower and 187 MPH top speed.
Levante GT
Starting at $81,200 MSRP*
3.0L twin-turbocharged V6 engine with 345 horsepower and 369 lb-ft torque
ZF 8-speed automatic transmission with Q4 intelligent AWD
Leather interior upholstery with heated front seats
Power-assisted steering with Speed Sensitive Feature
Power liftgate with keyless opening and available remote start
The very first trim level in the Maserati SUV family is the Levante GT. You'll find yourself immersed in passionate Italian performance with its standard 3.0L twin-turbocharged V6 engine producing 345 horsepower and 369 lb-ft torque. Its responsive ZF 8-speed automatic transmission provides nearly instantaneous gear changes while the Q4 intelligent AWD system adds even more confidence across both dry and wet road surfaces. Authentic Italian leather upholstery and a power liftgate are only two examples of premium components of the interior that will help you enjoy every stretch of your daily drive.
Levante Modena
Starting at $92,900 MSRP*
3.0L twin-turbocharged V6 engine with 424 horsepower and 429 lb-ft of torque
Upgraded full leather upholstery
Panoramic sunroof with gloss silver roof rails
Remote start via key fob
Hill Descent Control
Searching for even more athletic performance from your Maserati SUV? Upgrade to the inspiring Levante Modena, equipped with a more powerful version of the 3.0L twin-turbocharged V6 engine. Thanks to clever engineering, Levante Modena models benefit from an impressive 424 horsepower and 429 lb-ft of torque. Other enhancements to the cabin include upgraded full leather upholstery and a panoramic sunroof. A remote start system helps you pre-heat or pre-cool the interior of your Levante based on the exterior temperature.
Levante Modena S
Starting at $117,500 MSRP*
3.0L twin-turbocharged V8 engine with 550 horsepower and 538 lb-ft of torque
20-inch dark gray staggered Efesto wheels with gloss red-painted brake calipers
Metallic exterior paint and chrome trident with blue accents
Sport seats and Inox sport pedals
14-speaker, 900-watt Harman Kardon premium audio system
Podium-winning performance meets bespoke Italian craftsmanship inside the Maserati Levante Modena S. Under the hood of Modena S variants lies a thrilling 3.8-liter twin-turbo V8 built by Ferrari, producing an impressive 550 horsepower and 538 lb-ft of torque. Achieving a balance between comfort and support, standard sport seats help hold you in place during high-speed cornering. In addition, its 900-watt Harman Kardon premium audio system allows you to hear your favorite tracks the way the artists intended them to be heard.
Levante Trofeo
Staring at $155,200 MSRP*
3.8L twin-turbocharged V8 engine with 580 horsepower and 538 lb-ft of torque
Pieno Fiore Natural Leather Upholstery
High Gloss Carbon Fiber Interior Trim
21-inch Machine Polished Staggered Anteo Wheels
Gloss Red Painted Brake Calipers with White Maserati Script
With much credit to an astounding power-to-weight ratio of 8.7 lbs/hp, the Levante Trofeo is able to punch far above its weight. Giving you the ultimate Maserati SUV experience, the Levante Trofeo offers a jaw-dropping 580 horsepower and 538 lb-ft of torque along with race-inspired design features found both inside and out. The end result of meticulous engineering, the Maserati Levante Trofeo continues to set the benchmark for all luxury performance SUVs.
Future Maserati SUVs
Thanks to recently released teaser images, it's been confirmed that Maserati is finalizing the development of their next SUV. Positioned below the Levante, the next compact Maserati SUV is expected to be named "Grecale". Although details are still forthcoming, stay in touch with Maserati of Akron for the latest updates and news surrounding the release of the next Maserati SUV.
---